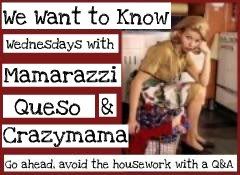 Hello Wednesday, we meet again. I appreciate that it seems as though you've arrived faster this week than others, especially since I'm counting down to a three day weekend!
Let's hope I haven't jinxed myself by saying that... *shifty eyes*
As usual I'm linking up with We Want To know Wednesday hosted by:
This week's theme involves MUSTS!
1) What MUST you do before you go to bed each night?
I must turn my tabletop fan on. I can NOT sleep without it. I can't sleep without some kind of fan in the background. I don't need to be cool, I just need the noise (and no, the TV or radio are not acceptable substitutes). Hotels are always nice because they have those big heater/air conditioner things, and I have a mini battery operated fan that I take camping with me. :)
2) What is one thing you MUST snack on at the movie theater?
Nachos! I don't get them EVERY time I go to the movies, because in all honesty I go to the movies a lot, and I can't afford nachos every time I go, but boy do I love some nachos and delicious melty cheese. PS: More often than not I sneak in a Nacho Supreme, no beans, no tomato from Taco Bell into the theater.
3) Before going on vacation, what MUST you do?
Hmmm...pack? lol I don't know, I don't really go on vacation a lot, but I know when I do go away or am doing something that involves packing I'm usually anxious that I'm going to forget something.
4) What is one thing you MUST do everyday?
I must put on make up, especially if I'm going out of my house. I know that it probably sounds vain or whatever, but I need it. I need the routine, I need the product itself - I just need it. The least amount of make up I'll use is moisturizer, foundation and some kind of eye shadow.
5) Is there something that you do that MUST be done in a particular order?
Yes, at work I have to put together service tickets for the technicians that are going out to perform service for our customers and I have a really particular order they go in and I get really upset when someone swoops in and tries to "help" me with it (like my supervisor). I know they mean well when they do it, but I always end up having to go back through and taking the staple out, rearranging the papers, stapling only specific sheets together and then paper clipping the other sheets and it basically makes like a packet. I'm really OCD about it, I WILL pull it apart if someone pulls it off the printer and staples it before I get to it.
So that does it! Link up and join in on all the fun!