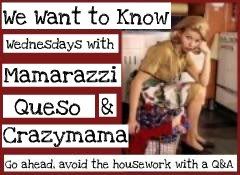 There's a new bloggy link up being hosted by several of the blogging world's best bloggers! I'm pretty excited to be participating in this and have been anxiously awaiting to see what the questions would be like. This week's questions are on FRIENDSHIP.
1. Do you make friends easily?
Not really, no. I'm socially awkward and have a hard time carrying on those "getting to know you" conversations. I have a lot of aquaintances, but as far as real hardcore friends go I don't have many, lol
2. What 3 qualities are MUST in a friend?
Someone who I can have a good

KNEE SLAPPING LAUGH

with, someone that I can

TRUST

and someone who is

DEPENDABLE

as a friend.
3. What makes YOU a good friend?
Well since I can't carry on conversations very well, I'm a great listener. I'm kind of opinionated and will let my thoughts known, but I'll always listen to my friends. I'm also extremely loyal, almost too loyal. I'll drop anything to spend time with my friends or take a phone call from them

(eventhough sometimes I don't feel they'll do the same).
4. Have you ever met a bloggy friend in real life?
No - I haven't met any of my e-friends in real life. The sad thing is one of them actually lives about 5 hours away and she's been an online friend of mine since I was in high school.
5. Who is your best friend? Tell us about them.
I have 2 best friends that I think of more as sisters at this point. My BFF

Alicia

I've known since we were 10 and I just adore her. We have so many inside jokes and so many things that we bond over - when we're together we never stop talking and more importantly we never stop laughing.
My other BFF, Alison, I've known since high school. We met while we were working at TJ Maxx when we were 16, we were also college roomies for 2 years! We've had a lot of ups and downs, but she's a wonderful person and a wonderful friend.
Both are great for going on various adventures with which is what I LOVE about them. Each friend also has a special thing that I like to do with them, like Alicia and I are big movie goers whereas Alison and I always go to our Expos.
Both girls mean the world to me and I'm lucky to have them in my life.
So that's it! Great questions ladies, I enjoyed answering them. To play along visit IA, Mamarazzi, Janette or Shawn to grab the questions, the button and to link up!
Enjoy your Wednesday!