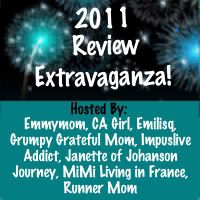 I'm back to do another installment of the 2011 Review Extravaganza. I still can't believe how fast this year went by, and I can't really believe how much I did!
During the summer I created a "To-Do List" and got quite a few things crossed off of it, in July I...
Donated blood for the first time in 6 years. I've since donated again and have an appointment to donate on January 3rd.
I participated in a Flip Flop Swap hosted by
Becca
.
I watched all Harry Potter movies in one weekend and I attended our local rodeo.
Of course I also rode my bike and poked fun of my friends who swealtered in Texas and Oklahoma in 100+ degree heat for some ridiculous number of days.
I also had lots of fun at a fancy RV resort kayaking with one of my BFFs and reading up on camp rules...
August came and went with a few highlights...
JP won The Bachelorette
I tried my hand at running and realized I have issues with shin splints
I started tracking my food again for weight loss
Celebrated a birthday, did my first giveaway AND my first sponsored blog post!
I found a kitten on my porch...
He's doing wonderfully at his home BTW, his name is Felix and he has a lot of furry friends with the Cat Lady.
I hiked my first two High Peaks with my BFF Alison!
And visited my most favorite place in New York (Lake Placid)
I also hiked my third High Peak and the next day Hurricane Irene hit the High Peaks region and devastated areas where we had just spent the previous day...
September wraps up this week's post in which I started to become a fail blogger.
Firstly I confessed my love for Pinterest but my hatred for creepy baby pictures...
I received my first VoxBox from
Influenster
I debuted my new name AND my gorgeous new layout thanks to my dear friend
Vanessa
And I did my last High Peak hike of the summer as soon as they reopened the trails that were closed down from Irene. This was also the scariest of all the hikes I did this past summer!
These are the best months for hiking as the mud is dry (with the exception of our last hike of the season) and the bugs are gone. It's sad to think I haven't hiked since the end of September, there's definitely been opportunities to do so.
How I miss these summer months and can't wait for them to come back!!
Speaking of summer, my new job entails assisting the director of my program in planning and executing the organization's summer day camp. Summer of 2012 could be the most stressful or the most super fun summer of my life!