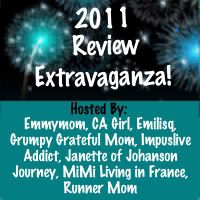 I'm back to participate in the 2011 Blog Review Extravaganza hosted by some of my favorite bloggers!
This week we're looking back at April through June...
Luckily I was flying full steam ahead in the blogging world and am able to go back and look at my blog for a refresher. Also at this point I had finally settled on where I was going to host my blog which is right here on Blogger (I used WordPress initially).
April...
I don't really remember much about April except for THE WORLD'S BIGGEST WEDDING CELEBRATION EVER!!!
I took the day off, and I stayed up to watch the Duke and Duchess of Cambridge tie the knot. Oh and then I had an awesome princess party afterwards. It was one of the happiest days of my life. For real. Don't judge.
Also in April, but not nearly as exciting...
The 2011 Summer Adirondack Sports and Fitness Expo
And I did a lot of biking
May -
In May I continued biking, and ate a lot of ice cream while biking
I also started my extended biking trips to Lake George
Hines Ward won Dancing With the Stars
I became an official member of the Adirondack Mountain Club
I hid out from religious door knockers in my bathroom
And I went to camp in Newcomb for the Memorial Day weekend and hiked Goodnow Mountain while there. It was buggy, muddy and rainy, but it was one of the best weekends in the whole year.
I'd say the biggest part of May was reaching my halfway goal with TOPS. I lost 30.75 pound and almost 21 inches total since January. This was a blessing and a curse. It was at this time that I basically stopped attending TOPS meetings (for various reasons) and stopped really watching what I was eating. However, I was still active, thus I maintained my loss (give or take five pounds) until fairly recently.
June -
I did even more biking
I got crafty and made this for my friend's birthday
I hiked a small local mountain
And lastly, I lost one of my uncles which was difficult for me to deal with. I still think about him often, and really am feeling for my aunt who is about to spend her first Christmas without her husband.
All in all I'd say April-June were pretty good months. Lots of activity, lots of great weather and lots of bike riding, haha.
Here in Upstate New York we had a really harsh winter and it seemed like I waited forever to be able to start hiking again and to be able to enjoy the nice weather. As I sit here freezing and dreading the upcoming winter, I can't help but smile looking back at some of these pictures and thinking about how fast it all went by. Why can't the winter go as quick as the summer does??? Oh I hope it does!