Welcome to Muddy Boots and Pearls!!!!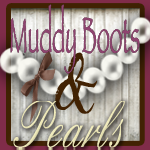 You may need to update your reader to reflect the domain name change (but I'm really not sure). I'm going to do an official change over in the next day or two to:
www.muddybootsandpearls.blogspot.com
And I have a button, a real button that you can put on your blog!!!
So hop out of your reader for a second and stop by to see my AWESOME new layout, compliments of the wonderful Vanessa over at
JFamForLife
!
Vanessa is working on getting a degree in graphic design and I have to say I think she picked the right field! She was an absolute joy to work with, we have been working on this for a couple of weeks now and I felt completely comfortable telling her what I did and didn't like, what I was looking for and what direction I wanted to go in. She really nailed it! Go visit her, say hello and I do think she is looking to do this as a small side business, so if you're looking to revamp your blog definitely ask her about it!
I initially started this blog as a weight loss blog and as you all know I haven't really been focusing in on that realistically and blog wise. Realistically, I'll get back on here in the next couple of weeks. Blog wise you'll see me participating again in
Brandy's
Fat Ass Friday, but that will really be the extent of it. I'm not going to be posting each day what I eat or my exercise or anything like that (although it's been quite a long time since I've even done that).
So what has my blog become? It's become a reflection of me! It's become a place where I can share my life with some great friends that I've made along the way. It's also become a place where I get to brag about the things I do in my area and within the Adirondack Park. Ideally, I would like this to be a good reference point to anyone who hikes or visits my area.
So I hope you all like the changes and will continue to find enjoyment out of my posts. I appreciate your patience as I get things up and running and more importantly I appreciate all of hard work that
Vanessa
put towards making this.