It's been too long since I've linked up with Mamarazzi's weekend bloggy meme. I feel like I've had a lot of mopey posts over the past week, so I need to take some time to reflect on the positive and good things in my life right now. Click the button below and link up to share what made YOU happy this week.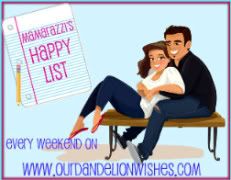 I'm happy

for HAPPY MAIL!
I was thrilled when I came home Friday to find a bright yellow envelope in my mailbox from Janna. She took the time to write a quick note with some encouraging and uplifting words, which I so needed to hear. I couldn't believe someone could be so thoughtful, it really brought tears to my eyes. Janna is a great friend and a really special person, I'm so blessed to have crossed paths with her!
I got other happy mail as well this week. I had won a giveaway over at Brandy's giveaway blog. A camisole from SkinnyTees! I can't say that it worked the miracles I was hoping it would (dang), but it is really comfy and I was so thrilled to get it!
Getting happy mail always gets me in the mood to send happy mail. Speaking of which I have two swaps coming up that I'm so excited about. I'm doing a Tote and a Note swap on Swap-Bot, this will be my first Swap-Bot swap so I hope it goes well and is a positive experience. I have an issue with bags of all kinds, so naturally this is the perfect swap for me. I also signed up to do Becca's Texas Sized Flip Flop Swap. I LOVE shopping for swaps - I don't do nearly enough of them.
I'm happy

that I have an interview for a new job as a claims representative for an insurance company Monday morning! I have to say that this interviewing process seems awfully lengthy. As in, I already spoke with and have been in touch with someone in HR and I've taken two tests (policy/personality and data entry/keyboarding). Monday is my recruiter interview with someone else in HR, if I get to go beyond that I have a MANGER interview and the only after I pass a background check and drug screening can I be offered a job. Sheesh! Either way, I'm really feeling positive about it.
I'm happy

that I let my creative juices flow (this rarely ever happens) for my guy friend's birthday present. His birthday was actually Friday and although I did see him Friday because he stayed with me Thursday night, I withheld his present because he went away this weekend which upset me because I wanted to take advantage of a free weekend at a certain tourist attraction in the area. haha - I'm kidding really, I withheld it mostly because it wasn't done.
Preston is being especially helpful here...
And the finished product...the picture is one of my favorites from our trip to Newcomb, Memorial Day weekend. :)
The flash kind of made the brown paint in the background stand out, but it's not as apparent in person...at least I hope it isn't, haha
I'm happy

for the rainy weekend. Truth is, everyone I know went away this weekend or has to work. Plus there is a lot of activity going on in my area with a motorcycle rally and a giant craft fair, so it gives me an excuse to stay in and avoid the crowds.
I'm happy two of my favorite bloggers had gorgeous little babies this week! Welcome to the world Dexter and Avery!
What made YOU happy this week??